HOW TO REPLACE THE RF CARD OF TS/T-2000 TECHNOSYSTEMS FM RADIO TRANSMITTER.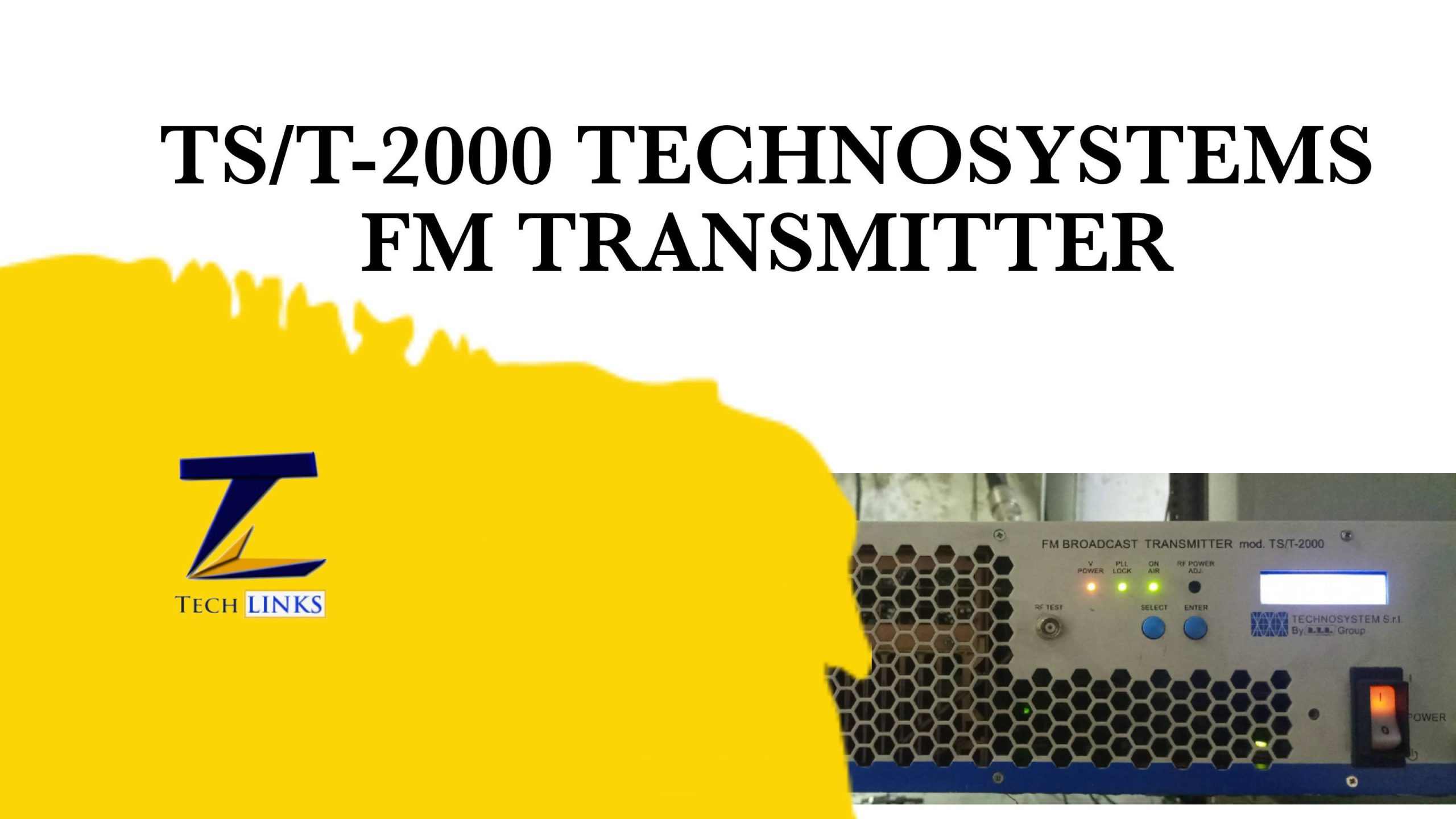 The TS/T-2000 Technosystems Transmitter is one of the best Radio Transmitters available in the market these days. The transmitter has a good mix of clear sound, good RF output while consuming the least electrical energy possible.
The Technosystem TS/T-2000 comes with good Built in stereo generator and optional RDS encoder and remote control, if you like. With a two – button control system, programming and setting up the transmitter can be easily achieved.
Pic 1; Front View of the Technosystems TS/T-2000 fm Transmitter showing the 2-button control of the transmitter
Most people who we asked about this transmitter say they are happy with it, especially for its energy saving capabilities. While other transmitters with similar RF power output capacity consume a minimum of 6kwh of electrical energy per Hour, the Technosystems TS/T-2000 would consume less than half of that in the period.
See Also Changing Tower Aircraft warning Lights; Engineer Pascal shares a personal Story in 2023.
In words of Engr. Ebenezer of Rhythm Fm Yenegoua, when asked about his experience with the Technosystems TS/T-2000 Fm Transmitter, his answer was 'That TX is very fantastic, I'm surprised not just because the transmitter came in a very small case, but also because it came in a single phase power cable and still gives us the same coverage level as the 4kw Transmitter we just replaced."
In this article, we take out time to discuss how the RF cards of the Technosystems TS/T-2000 FM transmitter can be replaced.
TS/T-2000 Technosystems Fm Transmitter; System Overview
The following are the main features that make the TS/T-2000 Fm Transmitter very special;
TS/T-2000 Fm transmitter is compact and strong following its stainless steel chassis, in 3 rack
units only.
uncompromised transmission quality at a very attractive price,
Can serve as a stand alone transmitter or as an exciter for use with another RF amplifier, seeing that its RF power can be adjusted from 0 to Maximum output.
Audio is clean, with low distortion and intermodulation values and a high noise/signal ratio
Advanced module engineering ensures ease of access and simple maintenance.
Total control using just two buttons, thanks to microprocessor easily programmed from the buttons or via RS232 with all key parameters displayed on LCD.
MPX composite signal and auxiliary inputs for SCA / RDS signals
state-of-the-art technology in full compliance with EC, FCC and CCIR standards.
Pic 2; showing how slim the Technosystems TS/T-2000 Fm Transmitter is
Pic 3; Rear view of the Technosystems TS/T-2000 Fm Transmitter
Changing the Rf Card of Technosystems TS/T-2000 Fm Transmitter; step by step guide.
If your transmitter can no longer output complete 2000w, then you may be having a damaged RF card in your Transmitter. You may need to take the following steps change it;
Source for the Card; the first thing you must do locate a place within your locality where you can get the replacement card. Without the card, then there is nothing to replace. If you are not able to find the vendor in your area, then you may have to contact the Original equipment manufacturer.
Put off the transmitter and unscrew the top cover; In doing this, you must be careful to ensure that all screw nuts are well unscrewed and kept carefully. You need to unscrew the top cover, and then go ahead to unscrew the RF compartment covered in a copper casing.
Locate the Burnt RF Card; The Rf Card is usually inside the copper casing as shown in Pic 4 below.
I usually recommend that you take a clear picture of the RF card the way it is before you begin any soldering. That way, there won't be any confusion as to how the position of the cables and screws are.
Unsolder the bad card and then carefully replace with the new card you already have.
Pic 5;Location of the RF Card
Apart from Technosystems, you can check out other low power FM transmitters here
When you are done, feel free to dust the equipment of all accumulated dust.